000 days 00 hours 00 minutes 00 seconds
Unlimited audience. six 'Mountain Women'. Talk One
Mountain Women's Talk – the latest addition to the Shades of Winter platform. A live streamed interactive digital talk format, with top-class guests. In its first edition on January 14, 2021, four world-class female athletes talked about the head in and outside of sports. Moderated by Sandra Lahnsteiner and Karina Toth, from Gastein, live around the world.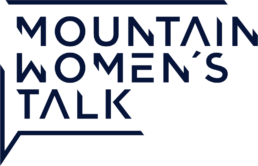 "Sport in the mountains is our passion. Success and failure are the school of life."
Downhill Super Talent Valentina "Vali" Höll, freeride world champion and climber Nadine Wallner, Miriam Neureuther, former German top biathlete and cross-country skier and Olympic champion in alpine skiing Viktoria Rebensburg.
"At the Mountain Women's Talk we want to hear the most personal stories from our guests, who are role models for all of us. Insights into the lives of the sportswomen and experiences that enrich us for our own activities in sports and in everyday life". Sandra Lahnsteiner
Sandra Lahnsteiner
Freeskier, filmmaker, host, speaker, founder of Shades of Winter & Mountain Women's Talk
Karina Toth
Event and TV presenter, outdoor enthusiast, European Curling Champion & Mama of Twins
Mountain Vibes, Emotions, Community & Life Lessons
We are happy to be a guest in GASTEIN with the Mountain Women's Talk. Our partner hotel DAS.GOLDBERG is not only the location for the talk, but also offers the sportswomen a place to retreat and relax after their ski tour in the Gastein Valley.
"Having a new idea is one thing. To believe in a completely new format and to support it is another. Thanks to all those who, by placing their trust in me and my idea, are contributing to the realization of the first digital Mountain Women's Talk".
Sandra Lahnsteiner